Nowadays in Cambodia, more and more young people have dreams of having a family and living a quality life. As people's living standards improve, the demand for modern well-furnished small apartments become more and more popular and driving many real estate enterprises to meet the demand of this sector.
As a result, Cambodia's booming real estate market has been dominated by offers of small fully-furnished apartments made presentable and complemented by a good set of amenities. Developers of this new breed of apartments also take location – a deciding factor in property purchases – into consideration as Phnom Penh's residents are starting to prefer higher quality living that matches their growing purchasing power.
Baoli Mansion, a project that started in 2018, is one of this new generation of properties. Baoli Mansion offers a well-rounded portfolio that satisfies for residents and other stakeholders. A complete living and investment solution is provided as residential comforts are packaged with professional property management, making it a highly competitive residential and investment option for many in the market.
As of writing, Baoli Mansion's first phase, which includes a hotel-style apartment building, is nearing the completion of its interior and exterior decorations and is set for handover towards the end of September 2020.
Located in the heart of Phnom Penh
Baoli Mansion is located in Khan 7 Makara, a centrally-located district of Phnom Penh. Its surrounded by a wide range of affordable and luxury commercial offerings. Banks and vital public services also dot the proximity. The amount of urbanization in this area has been compared to Wangfujing Avenue in Beijing.
Baoli Mansion sits at the intersection of Kampuchea Krom and street 139. It's hemmed by the vital road arteries coming from Monivong Blvd to its easy, Nehru Blvd to the west, Preah Sihanouk to its south, and Russian Federation Blvd to its north.
A residence fit for the modern Cambodian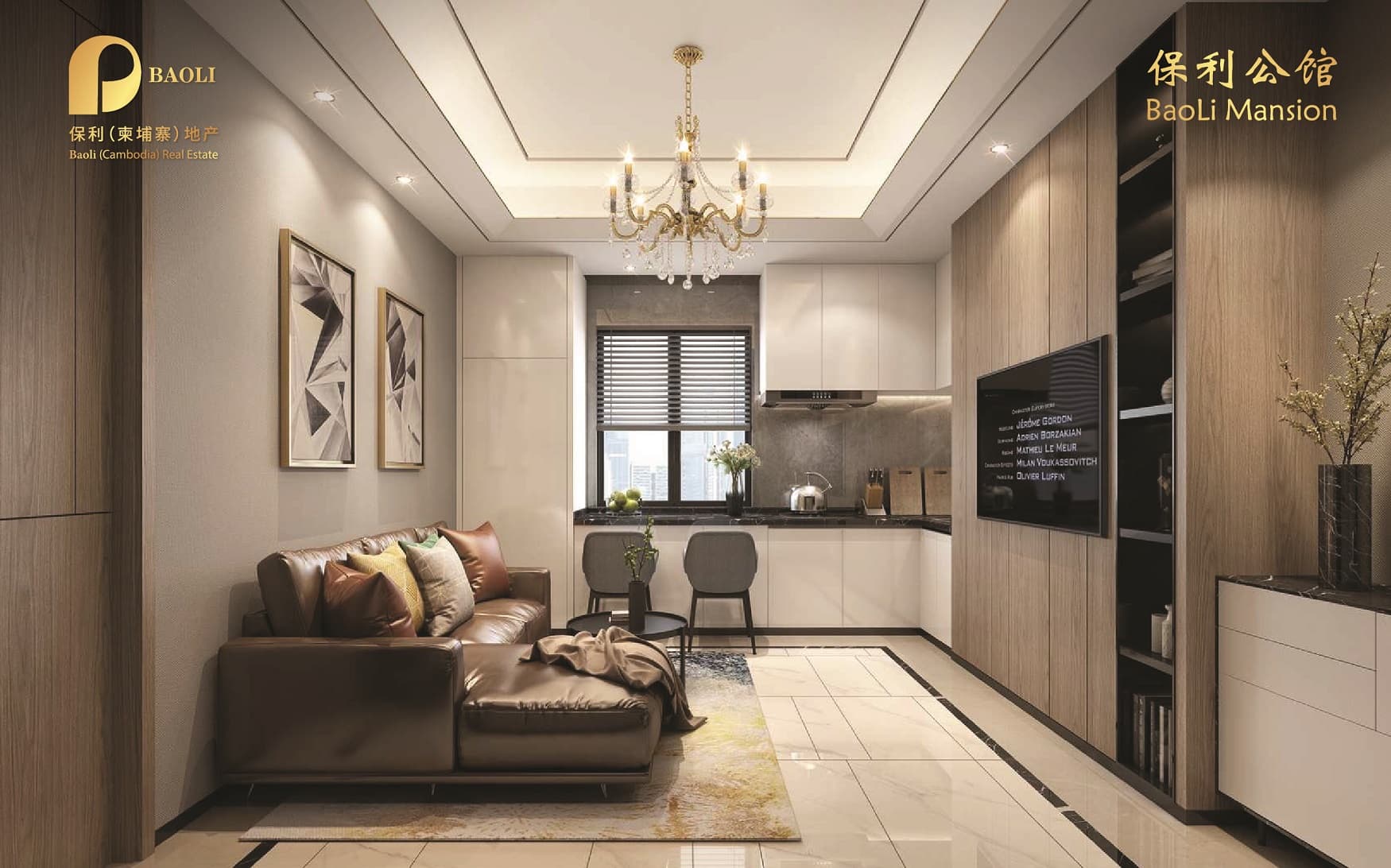 The Baoli Mansion offers modern luxury apartments with smart layouts and with full function, which is designed to maximize domestic contentment with a vibe of continuous prosperity.
The first phase of the project consists of 28 storeys with 644 units of refined apartments stretching on the floors above the 5th floor. There are five high-speed elevators, 240 car parks, 450 motorcycles parking spaces inside. Each floor plan comprises 28 units of apartments in four different types in a range of sizes between 47-57 square metres, 20 of which has a floor area of about 47 square meters. The net area average rate is about 77.53%, far exceeding the usual utility rate of high-rise residences around.
The Baoli Mansion's 6-meter-high grand lobby is not only about style and class, but exuding a sense of home. The residence has an exclusive top-end VIP club, with cafes, gym, restaurants, and bars, which is also accessible to tenants.
The FTCP, experienced property management firm based in Taiwan, is going to provide a butler service package to overseas owners, including leaseback, ordinary care, financial settlement, tax law consulting, and other services you can customize according to your needs. Work with them to manage your property, you will be able to gain investment yields and collect without any fuss.
To sweeten up the deals, developers offer a 10-year leaseback option to buyers, in which guaranteed rental return will be paid as $8,000 per year during the first 5 years, and then 70 % of rental excluding tax will be paid based on the size of the consigned unit from the 6th to the 10th year. And a plan B would be that developer will offer a price of 120% of the initial cost to buy back property in the Baoli Mansion by the end of the 5th year after handover.
The Baoli Mansion is amongst a few great potentials in this prime location, luxury, comfort, and beauty rolled into one, it has been marketed as the perfect dwelling for the urban elite and celebrities, as well as a strategic private investment for international buyers.
Interested in this property? Know more by visiting our full listing and let our live chat know!
From: https://www.realestate.com.kh/news/baoli-mansion-hand-over-september-2020/