Real estate markets often bounce back after external shocks either pass or become more manageable. Supplied.
Property developers are looking to gradually increase prices in the next 12 months following the country's economic reopening. This is off the back of the recent easing of measures in October followed by more practical requirements in mid-November – a move welcomed by multiple sectors and made Cambodia a leader in regional reopenings.
Realestate.com.kh, the Kingdom's largest property classifieds portal, reached out to several property developers to gauge their response to Cambodia's reopening and potential price increases in 2022.
"I think that most developers will raise the price when the restriction is eased," said Wayne Wang, Co-Founder of LumiArch Global, one of the companies behind Le Condé BKK1. "Several developers have already made plans and carefully discussed when they should raise the price," Wayne noted that though developers are looking to increase prices, they will not be raising them in the short term.
"15% to 20% would be what most developers will do, I believe. Any lower than 10% barely alleviates the pressure developers have been experiencing. On the other hand, too much of an increase would slow down sales and reduce the project's competitiveness" he said.
"The price increase is expected," said Ethan Liu, Deputy Director of Marketing for Vue Aston, a new waterfront development in Chbar Ampov. "Phnom Penh is a fast-developing area attractive for foreign investors. The larger market is already rising, and some developers will adjust the falling prices back to pre-pandemic values."
"We are confident that the average increase will be more than 7%. It will even be much easier for projects who have adapted to local needs to attract foreign investors," said Ethan.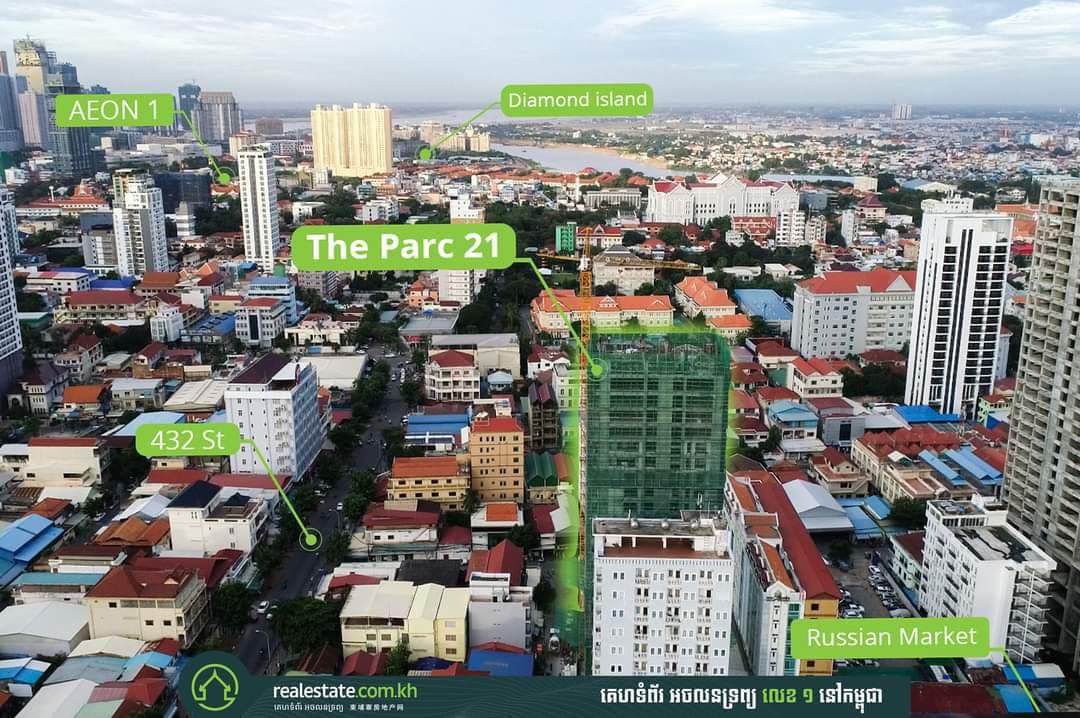 The PARC 21 Residence is one of the projects expected to raise prices as it recently topped out and is on schedule to hand over in mid-2022. Supplied.
Developers had to adjust their sales and marketing strategies to meet local preferences for the past 2 years. This was a challenge to many developers who had foreign buyers in mind when they entered the market.
Wayne Wang notes that besides international customers being unreachable, there are two other reasons for price drops, "One is that developers are also in tight competition from each other to attract more local Khmer buyers. The most common way of marketing to locals has been to give generous discounts, therefore causing the price of the properties to go down. At the same time, some projects who are approaching handover, also deployed strategies like dropping the price intending to lead to more sales."
Riya Kim, Planning Assistant for La Vista One, a new development in Chroy Changvar, offers a more grounded view, "Housing prices saw a downward trend because most of the local market also had financial and income problems during the pandemic. Most consumers did not want to spend outside of basic necessities."
Real estate markets often bounce back after external shocks either pass or become more manageable. How COVID-19 has been managed in Cambodia has allowed much of its economy to breathe after almost 2 years under a pandemic.
"Easing restrictions and re-opening is one thing, but bringing confidence back to the market is another," Wayne notes. "There are other factors like the price of the air tickets, whether it is really safe to travel, etc.". While property developers may be looking to increase prices, they are looking to do so gradually as the market regains its footing under Cambodia's new quarantine regime.
Source: https://www.realestate.com.kh/news/cambodia-property-developers-plan-price-hikes-2022/