Phnom Penh's outward expansion continues to see once-rural districts gain a new lease on life. Chamkarmon, Russey Keo, Toul Kork, and Sen Sok are a notable few who have seen considerable urbanization in the past decade alone. And with all this impressive progress, it was only a matter of time until Cambodia's developers take the next big step in widescale urban development: creating a satellite city.
Satellite cities, however, are not alien to Phnom Penh's real estate market. Koh Poch a.k.a. Diamond Island is a chief example of how feasible the idea is within the Cambodian landscape. The apparent popularity of Koh Pich among the new generation of property seekers has led to the Overseas Cambodian Investment Corporation (OCIC), Koh Pich's primary developer, planning for another satellite city project – this time in the Nirouth subdistrict of Chbar Ampov.
Chbar Ampov itself is a district only starting to see big commercial and residential developments as of late. The biggest and arguably the most popular of these is the upcoming Vue Aston residence in the Nirouth subdistrict.
The Vue Aston is a 38-storey luxury waterfront project with residences putting an emphasis on providing comforts similar to what can be found in city centres. It is the most sophisticated upcoming development in Chbar Ampov having only started groundwork in 2020. And while the OCIC's project is still within its planning phases, the Vue Aston provides us with an intriguing preview of the district's biggest undertaking yet.
Sophisticated residence and amenities

Developments in the city elevated the residential standards of many property seekers. And the Vue Aston certainly accommodates the range of new and sophisticated demands of the Cambodian market.
The Vue Aston offers a range of units ranging from studio (up to 55sqm) to 4-bedroom apartments (up to 239sqm). Apart from the 4-bedroom unit, the Vue Aston's residential portfolio offers potential buyers a selection of different floor plans to choose from. Rooms are adequately designed to allow for easy navigation between rooms; making it easy for residents to be at home, in their new home.
The Vue Aston delivers on complementing its fine residences with the appropriate quality of amenities as expected from a true modern project. It takes advantage of its waterfront location by giving residents an unobstructed magnificent view of the Bassac and Mekong rivers. Residents can freely take in these sights while enjoying other amenities such as its fully equipped gym/fitness centre, outdoor swimming pool, and open garden, among many other facilities.
A great location for multi-generation living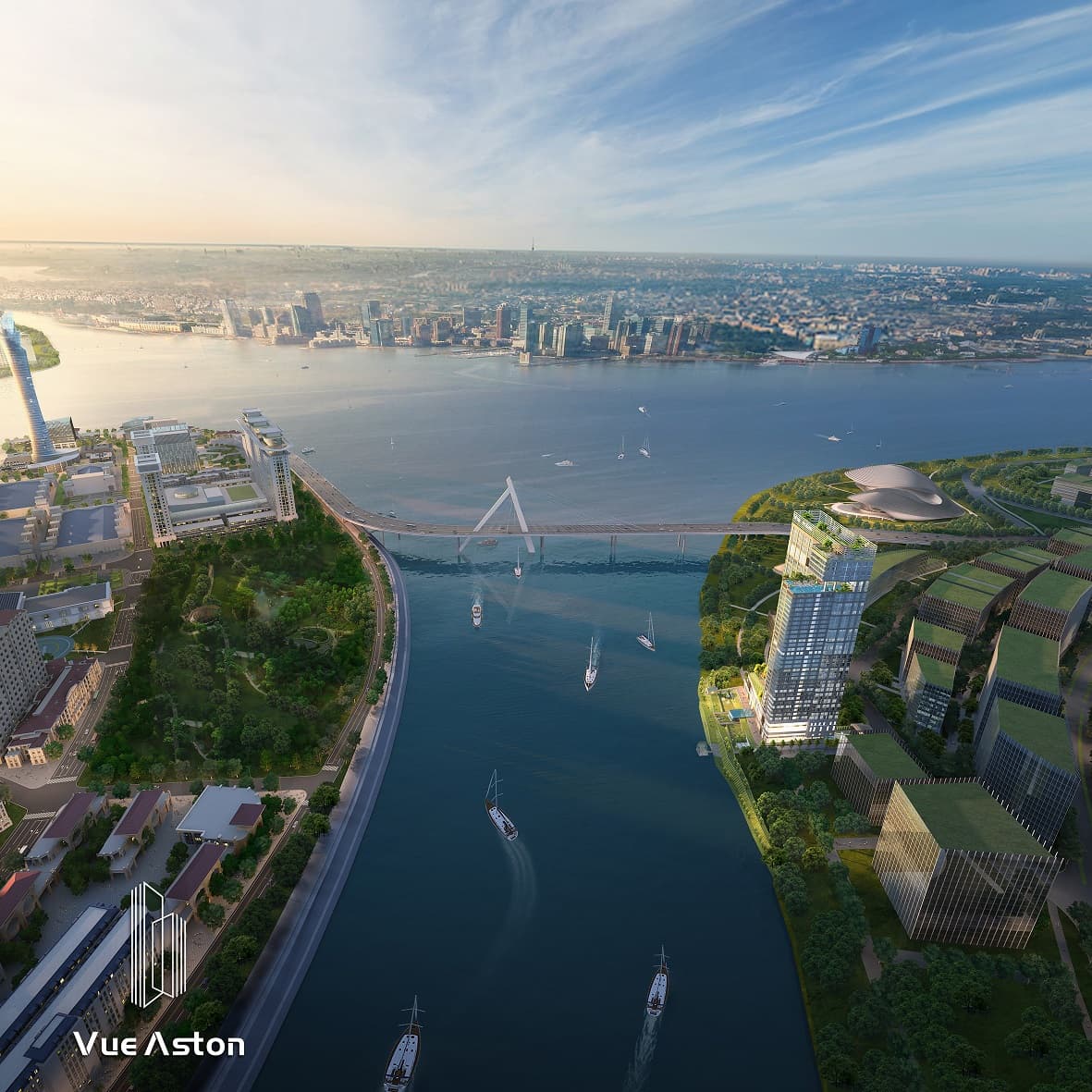 Location tends to make or break any property investment. The Vue Aston is squarely in the middle of two of Phnom Penh's most prized locations in the coming years. To its north is Koh Pich, a commercialized area of its own representing what Phnom Penh's developers have in mind for the city. While Koh Pich is only currently connected to downtown Phnom Penh to its wast, plans are in place to build a bridge on the island's southeast area to directly connect it to the Nirouth subdistrict of Chbar Ampov – right in the area of Vue Aston.
The Nirouth subdistrict is also planned to have its own satellite city to be built by OCIC. According to initially published plans, the planned satellite city will be a quick drive away from the Vue Aston – an enviable position that could certainly drive property values up once groundwork begins!
The Vue Aston is currently offering flexible payment plans for interested early buyers. Let us know if you're interested and we'll connect you with the right people at the Vue Aston today!
From https://www.realestate.com.kh/news/vue-aston-pioneers-chbar-ampov-satellite-city/