Retailers may need to go back to the drawing board to attract foot traffic and build confidence. Photo by K/T Pann Rachana.
Retail and entertainment foot traffic dropped by 25% on November 29-Dec1, according to Google's Mobility Tracker. Considered to be the country's first community infection, the new case forced an abrupt halt to an otherwise popular event to reignite the country's consumer and retail markets.
Prior to the Nov-28 incident, Google's Mobility Tracker recorded Cambodian foot traffic gradually returning to retail and entertainment destinations. October 2020 recorded a 15% decrease in foot traffic from the baseline. This was followed in November by as low as -6% foot traffic, with Nov 27-28 further minimizing the gap with a 4% mark below the traffic baseline.
Google's Mobility Data suggested a trend from more consumers in Cambodia visiting retail and entertainment destinations once again – a market trend built up from almost a year of being limited to where one can go and from the country's own effective handling of the virus so far.
According to a report by the Khmer Times, over 11,000 people who were linked to the November 28 incident have undergone COVID-19 testing. As of December 7, a total of 32 new cases from the community infection were found bringing the cumulative number of cases in Cambodia to 348.
Health authorities are currently conducting contact tracing and verifying the identities of "patient zero", believed to be the source of Cambodia's first community infection.
A long way to recovery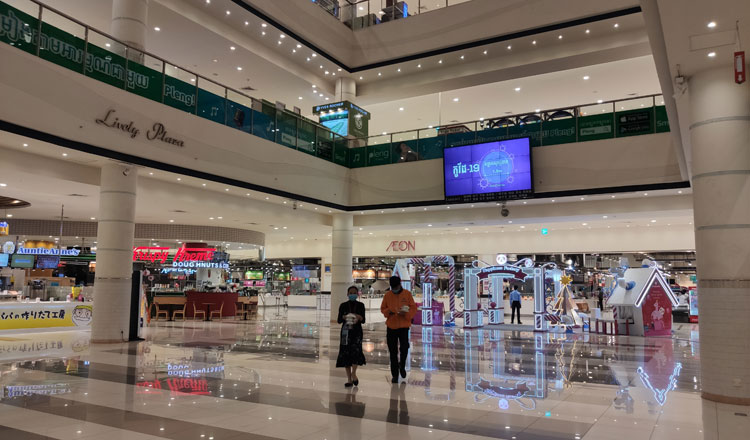 AEON Mall 1 reopened on Dec. 2 following its closure a few days prior. Photo by K/T Siv Channa.
AEON Mall 1 was allowed to reopen last December 2 following an immediate order to close off last November 28. However, the mall was not as crowded given that it was the most public area the community case visited.
The new COVID-19 case, found in a popular retail mall, brings retail landlords back to the drawing board of keeping their retailers' lifeline and attracting foot traffic once again.
"The situation is concerning," said Simon Griffiths, the Managing Director of The Mall Company, a retail specialist in Cambodia. "There is the potential for wider implications than previous cases."
Simon previously hoped December to be a positive month for retailers to improve sales considering the cooler weather favors outdoor dining and retail activity in general, but now laments that "This is no longer the reality. The sector must be patient, follow guidance but remember there is light at the end of the tunnel"
"As of the situation today, store sales and revenues for at least the 1st half of December will likely drop and negatively impact retailers" he notes and that a good December was needed for an already impacted retail sector.
"The end is in sight, we've hit a speed bump and currently we don't know what the full effect of the impact will be. The sector has struggled but can rebound with a pragmatic, sensible, and safe approach" Simon remarked.
A new round of precautions and restrictions on large public gatherings have been implemented as new community cases are found. The November 28 incident serves as a reminder that the road to recovery remains a long journey that is not over.
Source: https://www.realestate.com.kh/news/retail-traffic-drop-after-november-28-incident/