Phnom Penh's growing skyline is courtesy of the dozens of new residential and commercial projects launching every year. Supplied.
The rental market in Cambodia is a prime contributor to the surge of the Kingdom's real estate market. Not only does it attract expatriate renters, but also accommodates the increasing number of Cambodians from the countryside looking for a place to live in cities like Phnom Penh.
Key Highlights for Phnom Penh rental market:
3-bedroom apartment rental median price increase to $2,000
1-bedroom apartment rental median price slid down to $620
Sen Sok and Por Sen Chey districts offer the lowest median rental prices
Price trend by bedroom for a rental property in Phnom Penh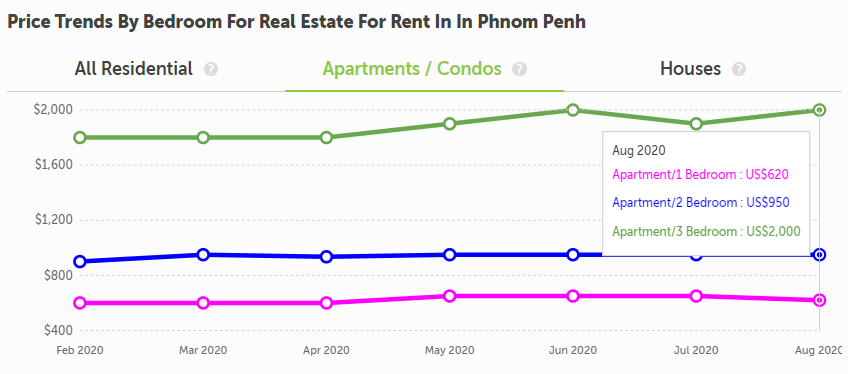 Based on Cambodia Real Estate Market Trends, the median price for 3-bedroom apartments saw a rise of 5% from $1,900 to $2,000 a month. On the other end of the market, 1-bedroom units saw a slight decrease in the median price from $650 to $620. 2-bedroom apartments remained steady at a median of $950.
As these are median values, interested renters can still avail of more suitable prices by simply searching for properties for rent in Cambodia.
It's worth noting that COVID-19 cases have not risen for quite some time in the Kingdom. As of September 10, 2020, total recorded cases were 274 with no active cases; giving Cambodia a week without any newly recorded cases. Cambodia's control over its COVID-19 situation may have also influenced the government's decision to relax the entry requirements to encourage tourists to visit and revive the country's tourist industry.
Median Rental Price of apartments/condominiums per location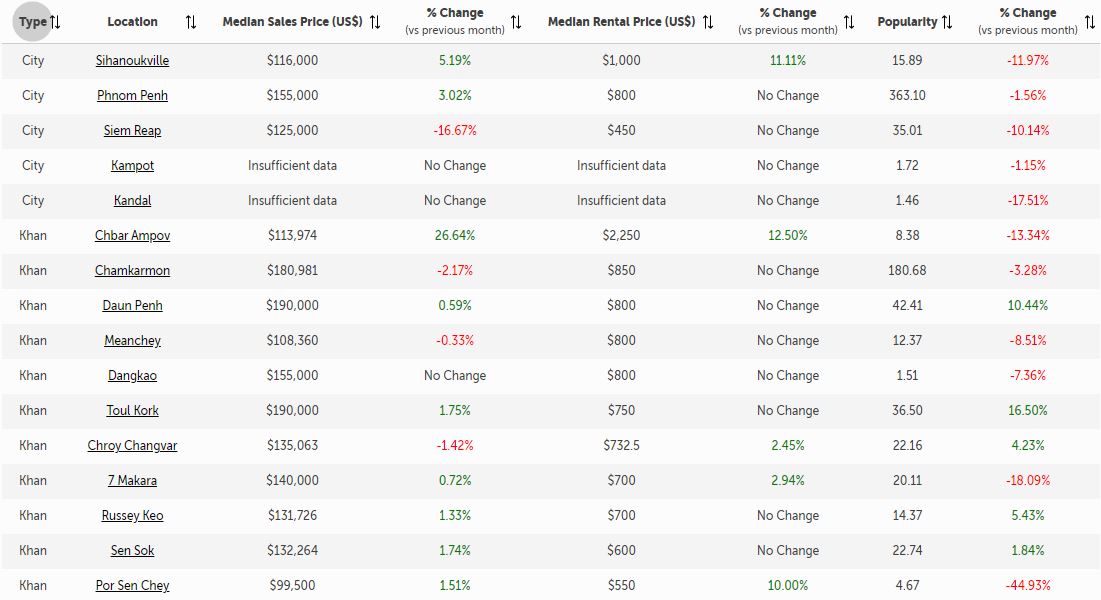 Chbar Ampov tops the list of median rental prices as the area is only starting to see developments, primarily from high-end projects. Por Sen Chey and Sen Sok are also seeing new attention from developers but have a wider portfolio of new projects. As of August 2020, Por Sen Chey and Sen Sok are ideal places for those looking to rent in Phnom Penh.
Sen Sok is a northern district offering plenty of city conveniences as it is close to the highly-urban area of Toul Kork. The district is also home to AEON Mall 2, Phnom Penh's biggest shopping mall yet. The district's open and wide space give the area a great potential for future residential and commercial development.
Por Sen Chey is Phnom Penh's western district where the Phnom Penh International Airport is and, as of recent year, been a hub of boreys. As central Phnom Penh's property prices soared, more Cambodians have started living in the suburban areas of the capital; Por Sen Chey is one of the choice areas for suburban/borey living. But as Phnom Penh's outward expansion continues, apartment/condominium developers have started looking to districts like Por Sen Chey for new development opportunities.
From: https://www.realestate.com.kh/news/phnom-penh-apartment-rent-update-august-2020/