Looking at the world, people are gradually beginning to create an association between a high-quality lifestyle with luxury residences. With the continuous expansion of major cities and an increase in income, the rising residential demand is driving the continuous development of residential products.
At the core of the city, the emergence of condominiums have garnered popularity in recent years, these large flats, has not only greatly upgraded the living quality of the elites, but also has an impact on the traditional multi-storey villas to a certain extent, replacing them as the new must-haves for true luxury living.
The smash-hit One57 in New York, 432 Park Avenue, the tallest residential building in the Western Hemisphere, and Hyde Park One, the most prestigious apartment in the London area, all feature rare luxury flats and declare large flats worldwide. The same breed of residences has arrived in the Kingdom.
In Cambodia, a sky mansion featuring large flat floors has been born. As a rare luxury residential product in Cambodia, Sky Villa shines on the central axis of the capital Phnom Penh, lighting up the entire skyline.
Sky Villa
Cambodia's capital garden-style sky mansion
Sky Villa is a sky garden-style mansion composed of two 35-story twin towers with a total height of nearly 140 meters. It is a beautiful landscape of Phnom Penh's new cityscape and is also a new urban landmark in the Cambodian capital, Phnom Penh.
With the continuous emergence of tall buildings in Phnom Penh, Sky Villa can stand out from the crowd not only by its height but also by design. Instead of saying that Sky Villa is a residential product building, it is better to call it a masterpiece of artistic style and luxurious design.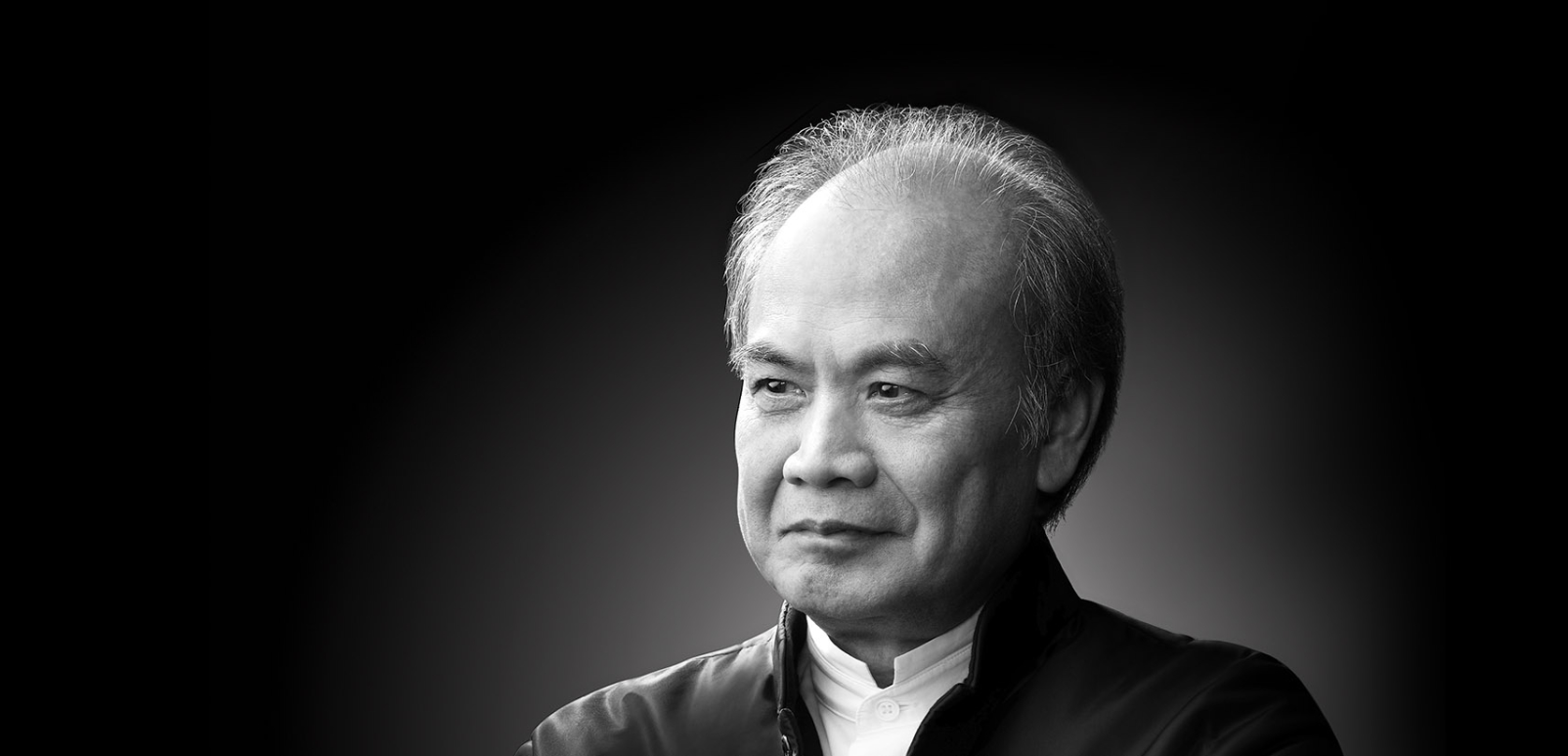 Sky Villa was designed by CY Lee, the internationally renowned Taiwanese chief architect behind the iconic Taipei 101.
In order to combine the whole building with the unique natural scenery of Southeast Asia, Li Zuyuan planned a large decorative space on the exterior of Sky Villa, which can cultivate green plants, so that the whole building can clearly imagine the basic concept of what a modern residence should be just by looking from the outside.
When you walk into the Sky Villa you will find that every tree, brick, tile, and even the atmosphere, all make up a life that you only thought was possible in your dreams. A home so soothing that the body can be truly calm, and any worry or stress simply fades and melts at the very sight of Sky Villa.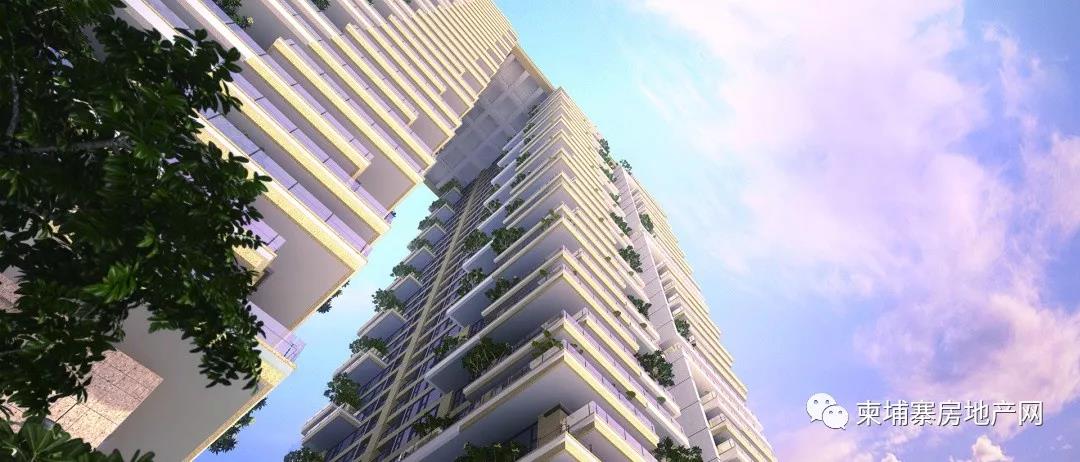 Sky Villa is not only a top mansion standing in the center of the capital, but also stands as a beacon of a peaceful life reminiscent of being in the countryside. The ingenious combination of the two is the ultimate experience of an ideal home only made possible in the Sky Villa.
The reason why the big flat floor can present a very high-end living experience is that it surpasses the characteristics of currently established residential standards. Sky Villa's sprawling residential units incorporate urban landscape resources and community supporting facilities into it, a true manifestation of the unique luxuries Phnom Penh's elite get to enjoy.
Sky Villa's massive interior allows for a magnificent welcome hall with an atrium sky 10 meters high and inviting to a flow of natural light.
The classic butterfly spiral staircase of European aristocracy can move to the mezzanine banquet hall. It is specially customized for high-society banquets and private parties, with absolute luxury and privacy.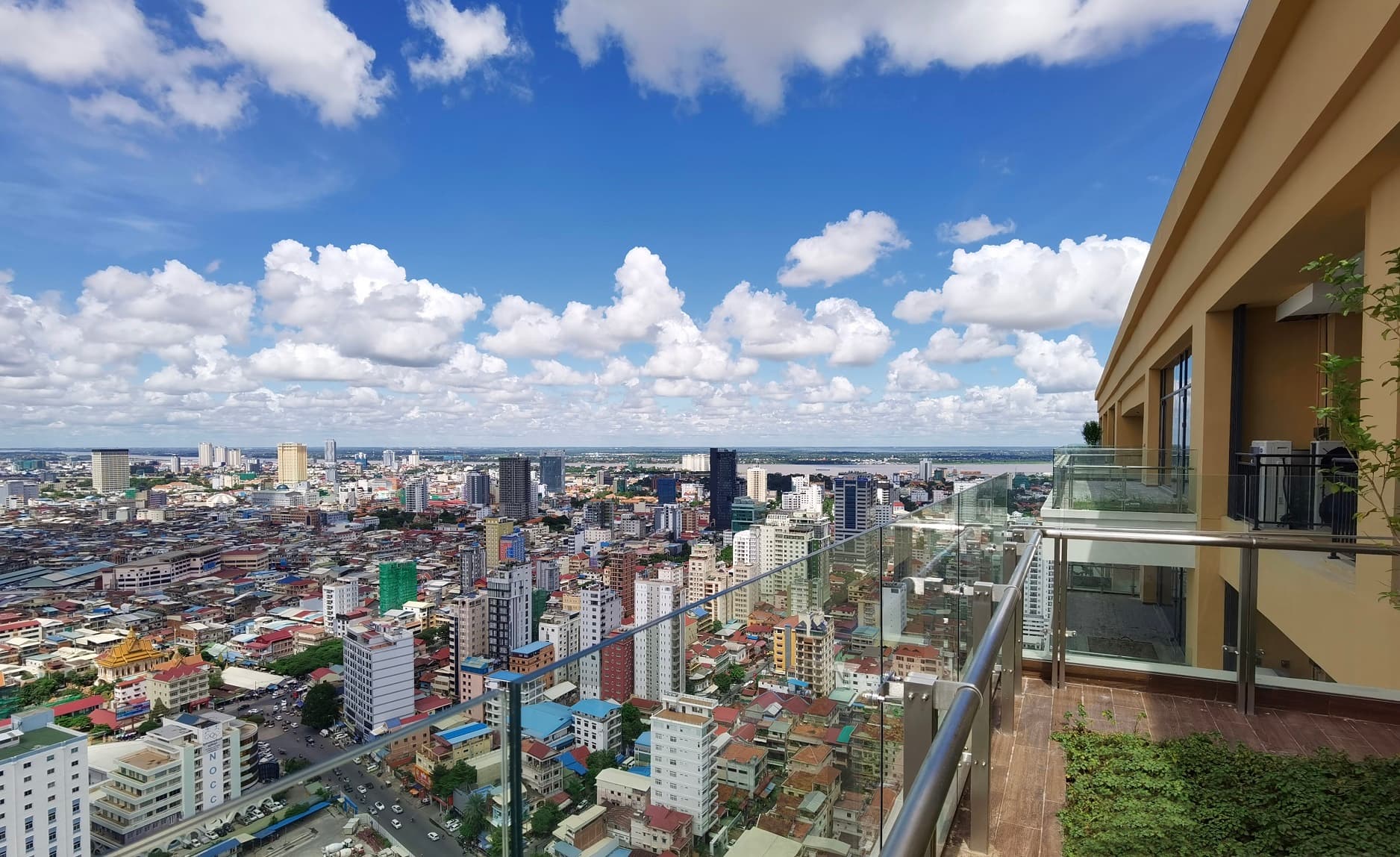 The 34-story sky courtyard, surrounded by flowers and connected by skywalks, makes people feel like they have walked into a European manor and immediately enjoy a comfortable life.
This ingenious landscape design surrounds the sky swimming pool, fitness hall, hydrotherapy massage room, children's water and land play area, and open-air dining bar. The three-pronged approach of sports, leisure, and 360-degree viewing, is in the sky, getting rid of the suffocation of urban space, and spurs a new breath of life every time.
In addition, the Sky Villa Club on the top floor also has a wine cellar, a recreation room, which can be used as a private room, and a reading area. Next to the club is a restaurant that can make the most delicious delicacies in Cambodia.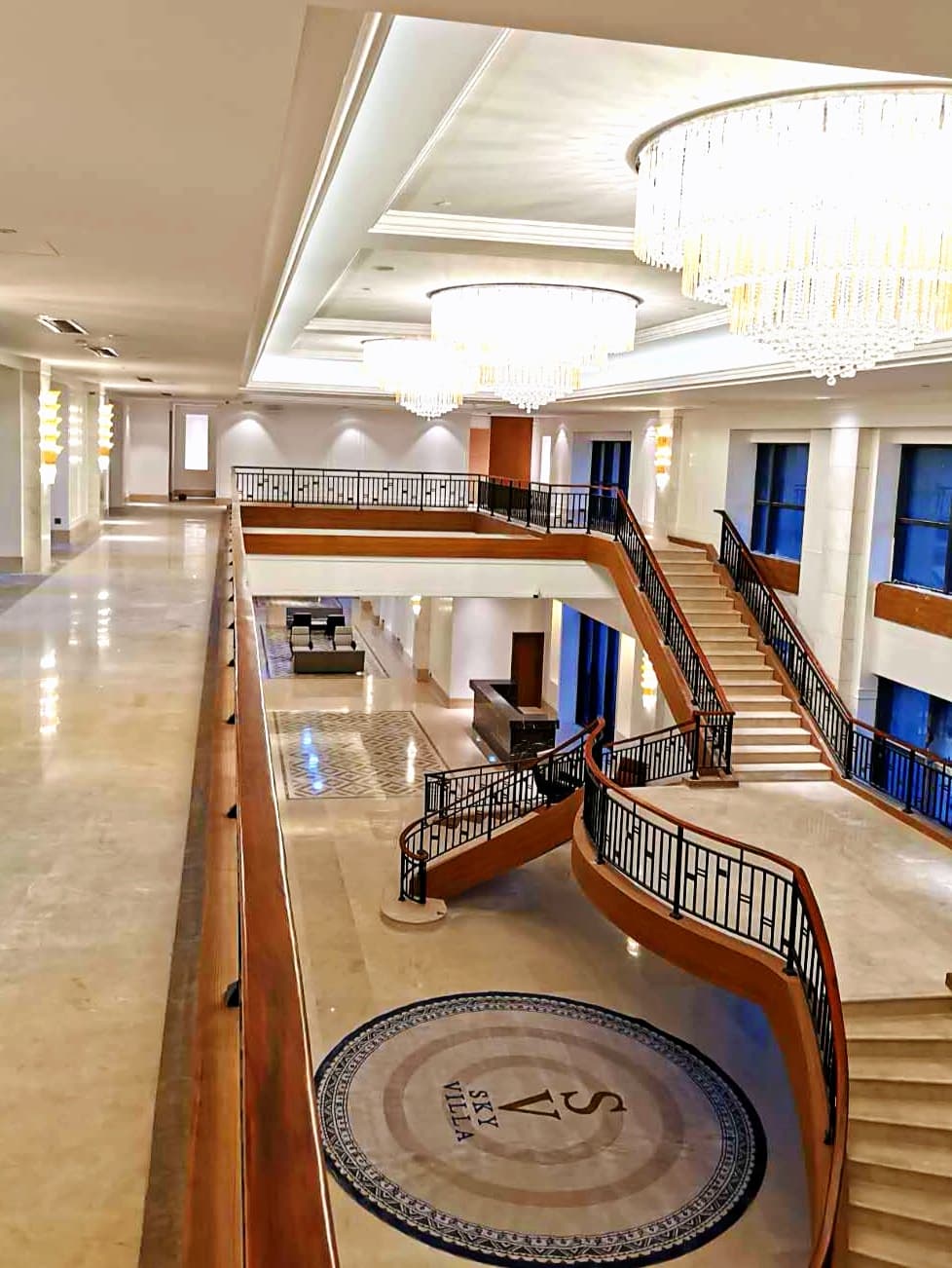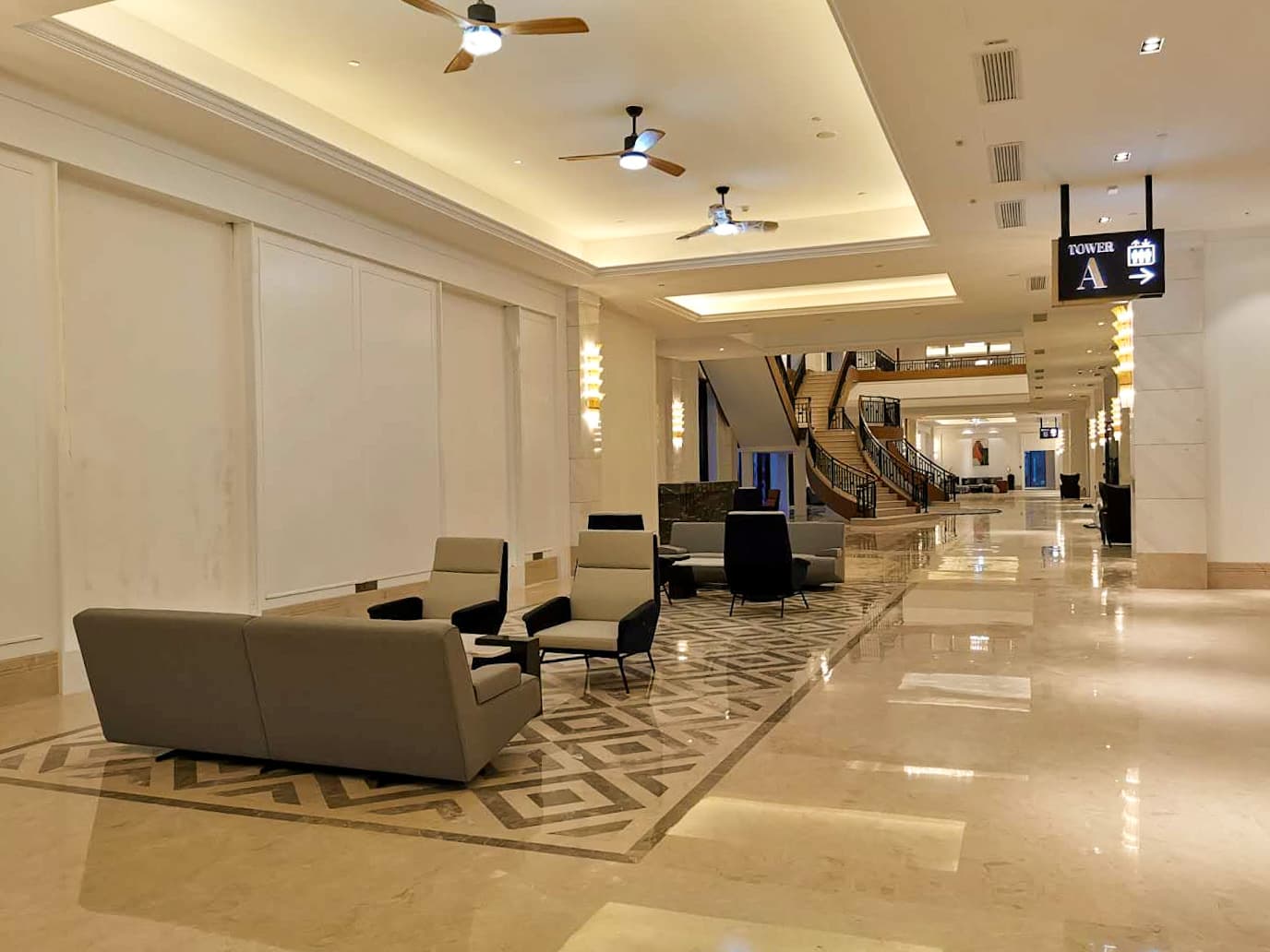 The sky's the limit when it comes to comforts
Property prices are slowly but surely rising in Phnom Penh while large-area units are starting to become harder and harder to find. Sky Villa remains a bastion of large floor units with unmatched comforts in the middle of the city, measuring 272 sqm to 509 sqm, truly one of the most spacious in the city.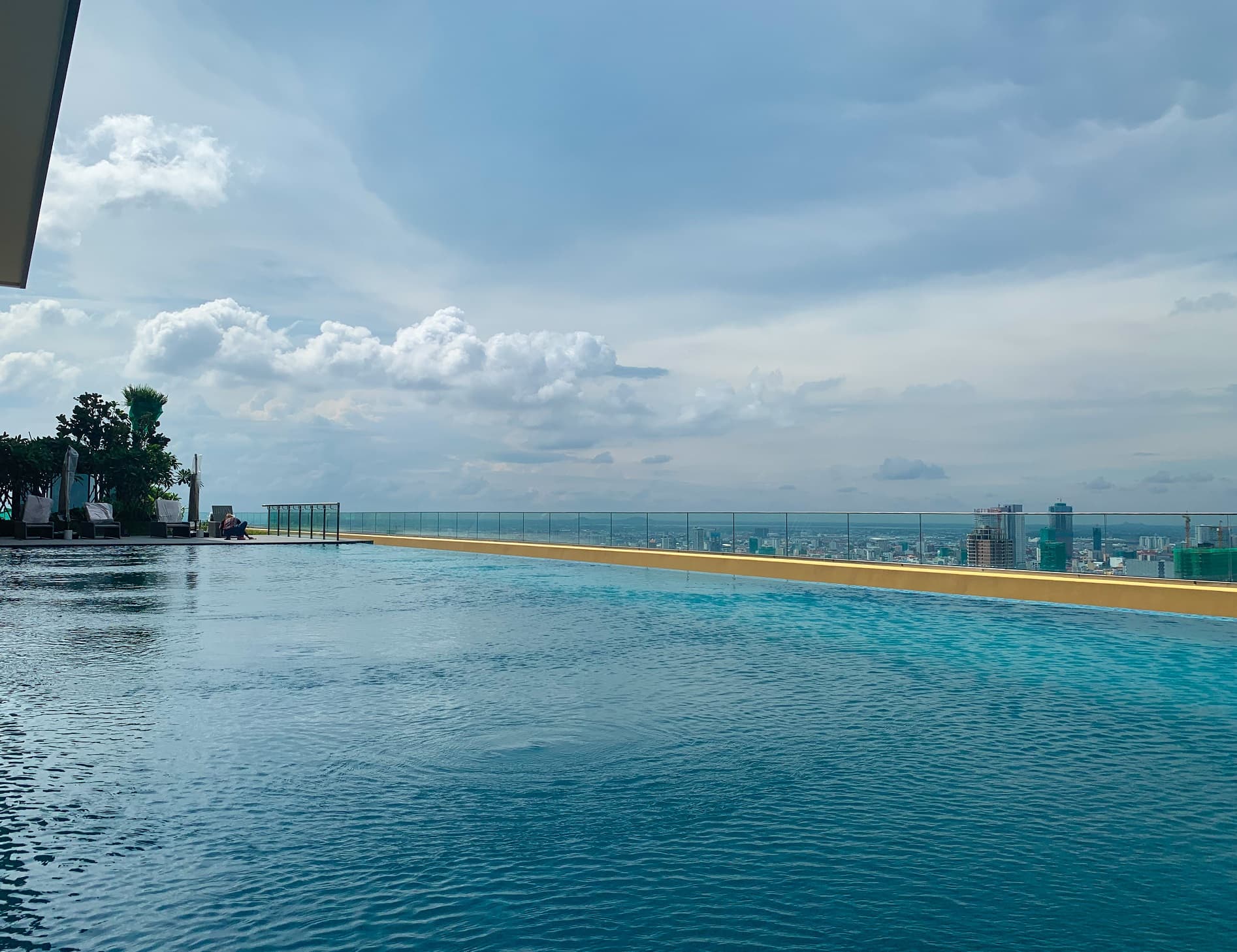 Sky Villa has 256 units and eight types of units, all of which are high-society luxury units, ideal for individuals and families looking to live a luxury lifestyle with no compromises.
The details of each villa-type apartment show the exquisiteness of the palace-level private space, using superb architecture and top-class interior design to create a luxurious and comfortable atmosphere.
All throughout the day, the surrounding interiors are filled with natural light, creating a unique luxury and exquisite life in Phnom Penh for you. This can be experienced fully through the multiple spacious balconies supplying each unit with a panoramic view of the city.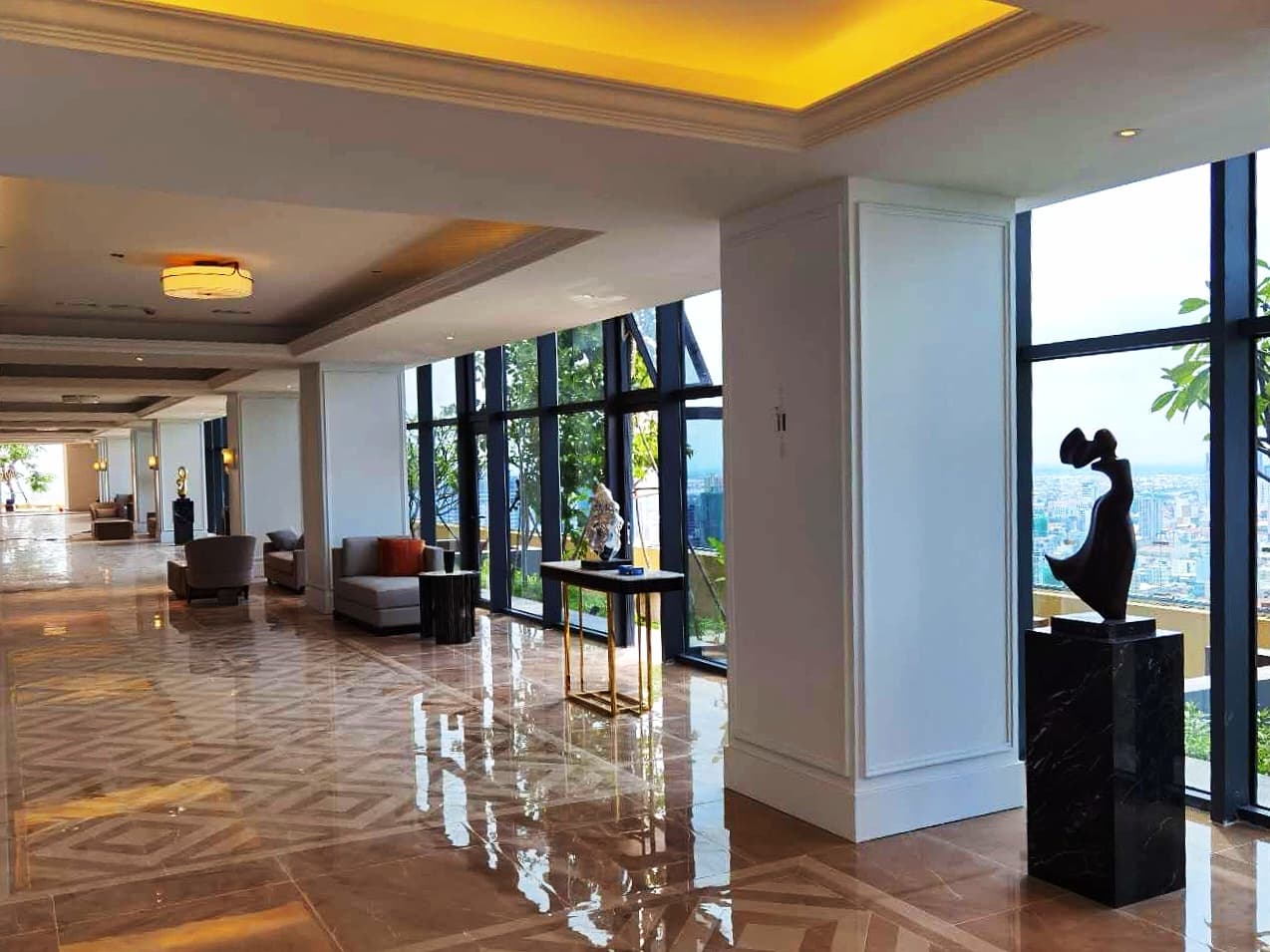 When you stand on this balcony, you will understand what "ultimate homeownership" is, and why there are so many high-end residences.
Each apartment type of Sky Villa has 270° full floor-to-ceiling windows. You can enjoy the extraordinary experience of sitting on the city skyline anytime and anywhere. The height of each household is 3.6-4.1m, which allows the owner to make full use of the design space.
In addition to the spacious living area, each apartment of Sky Villa has a well-designed large viewing balcony, which can be directly accessed through the glass door of the living room. The owner can build a private garden, or use it as a barbecue area or a tea area.
Taking into account safety issues, the balcony guardrails of each apartment are made of double-layer tempered glass and high-precision stainless steel technology, which is simple, beautiful, and durable.
If you want to live in a busy city but still enjoy the tranquility of the suburbs, the soundproofing design of the room makes it certain that you have a good night's sleep. Sky Villa has applied double-layer sound insulation glass, which can effectively block 90% of noise.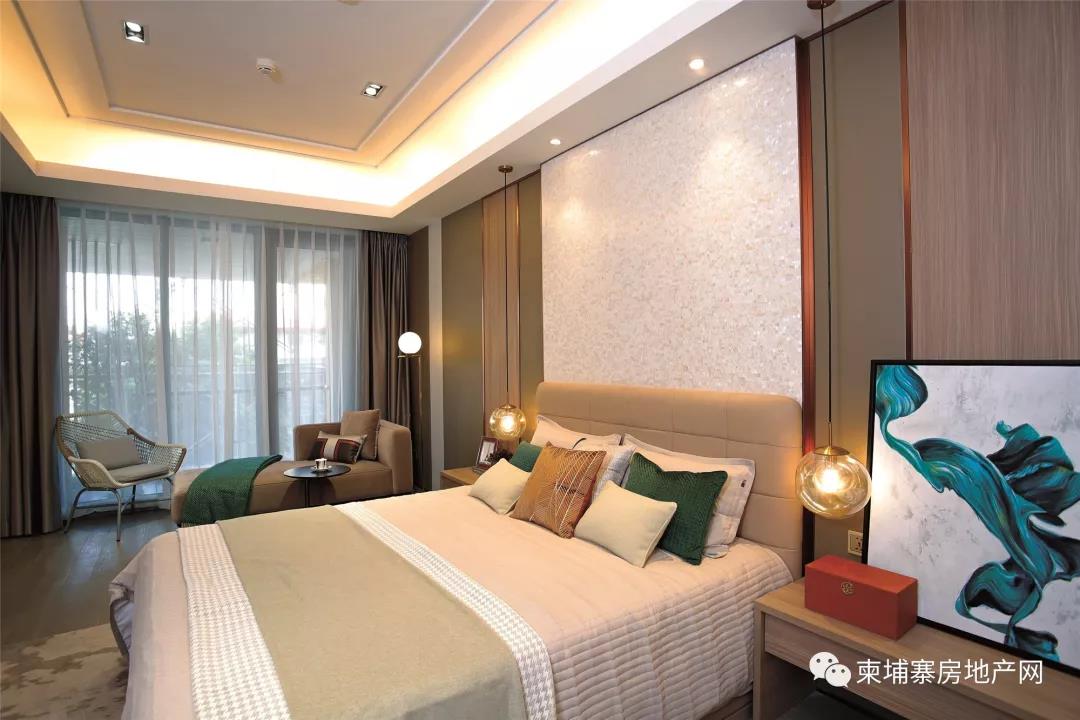 Phnom Penh is located in the tropics, and turning on the air conditioner with the doors and windows closed for a long time can cause the indoor air to be very dry. For this reason, each apartment type of Sky Villa uses an independent central air conditioner, which can effectively use the circulation of indoor and outdoor air to ensure air quality and make the room cleaner and fresher.
Each apartment type of Sky Villa is designed with more than 2 rooms. Both the master bedroom and the second bedroom have a very large space to ensure the comforts as much as possible. The bedroom can not only easily accommodate a large bed of more than 2 meters, but also open up a dressing room and cloakroom.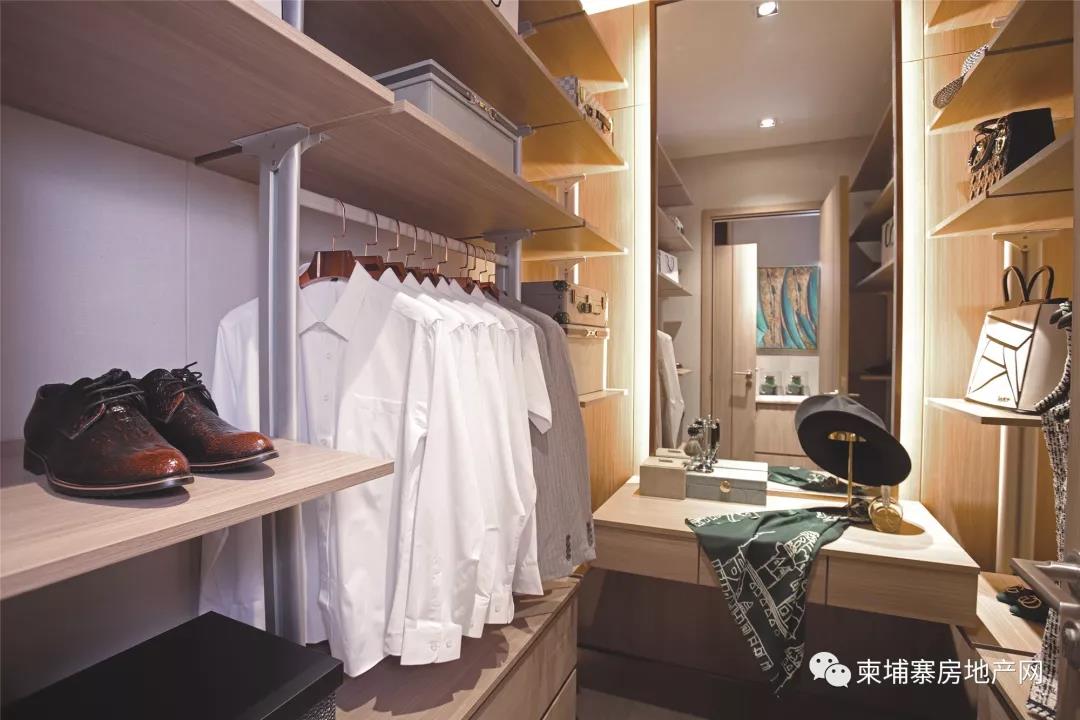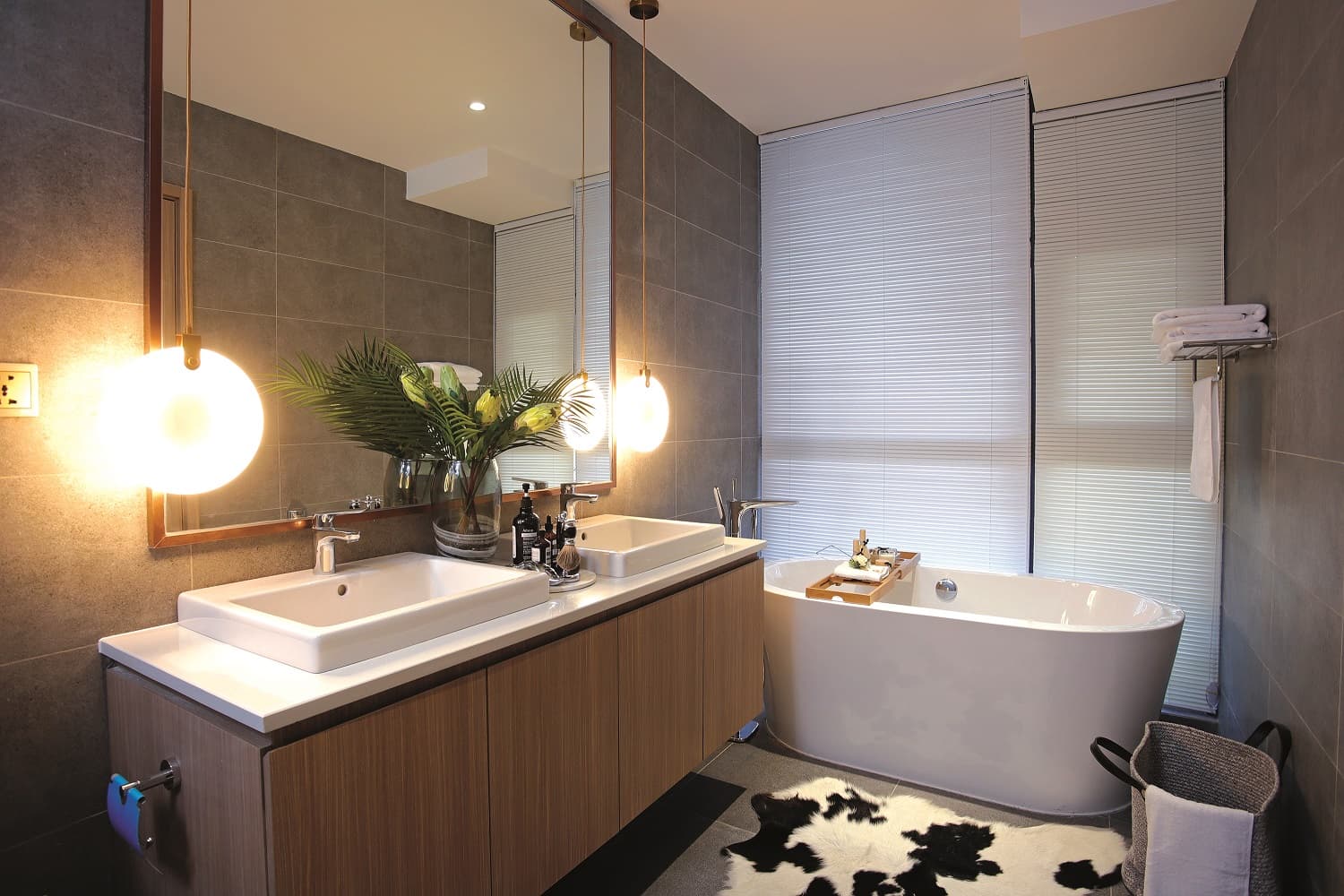 The toilet is designed with a separate wet and dry space. The master bathroom is also equipped with a bathtub. The bathroom products are all made of Hansgrohe and Duravit brands, which are beautiful, durable, and easy to clean.
The storage cabinets in the bathroom are all suspended and fully enclosed, moisture-proof, and dust-proof, and the invisible handles ensure safety while maintaining a beautiful appearance. Selected bronze framed mirrors can stretch the visual effect and make space appear more open.
As the most important activity area in the family, Sky Villa's kitchen has floor-to-ceiling windows, which are very transparent and bright. The walls are entirely tiled, which does not cause smoke and oil to stick. It also has the bonus of being nice to look at while being easy to clean.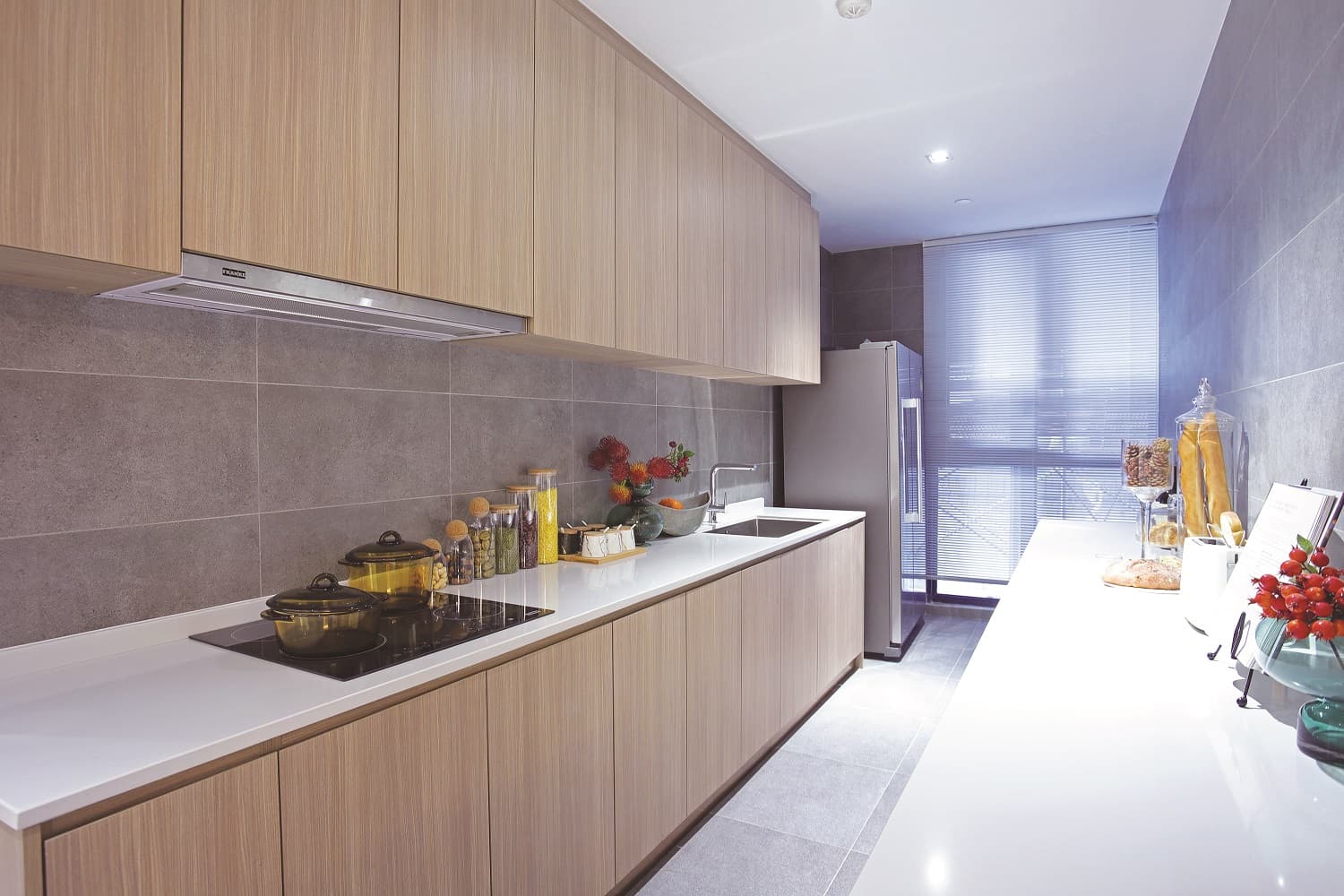 The H-shaped or double-row design layout has reserved a refrigerator position, neat cabinets, and a spacious operating table, and can accommodate 4-6 people – something that comes very convenient when hosting family gatherings and banquets. Full consideration has been given to the kitchen ergonomically designed for Asian stature and habits.
Sky Villa has a four-story underground parking lot, home security passages, and 24-hour monitoring equipment to protect the house.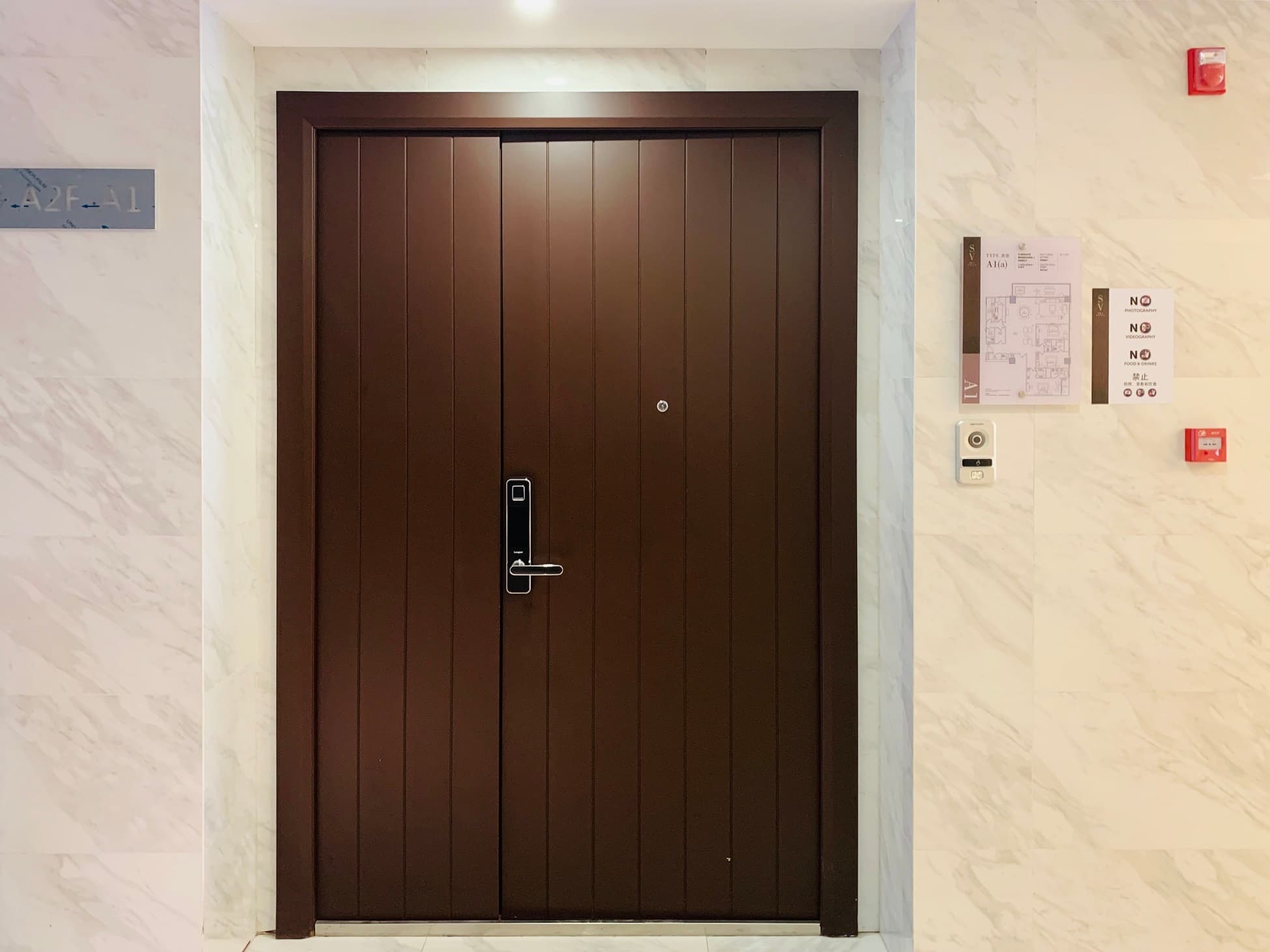 According to the usage habits of different age groups, all types of door locks adopt three unlocking methods of "password + swipe + key" , and are equipped with a full-featured video intercom, which not only provides convenience for life, but also ensures family safety.
In addition, the fully operational video intercom can also be connected with door sensors, infrared alarm detectors, smoke detectors, and other equipment to upgrade to a security technology protection network, which plays an additional protective role in anti-theft and disaster prevention.
Each apartment is equipped with an indoor escape door. When the elevator cannot be used in an emergency, you can go down the stairs from this door. Sky Villa provides maximum protection for the owner's life and property safety.
Elite living means living at the center of everything
The primary consideration for real estate purchase is the location as it directly influences your living experience.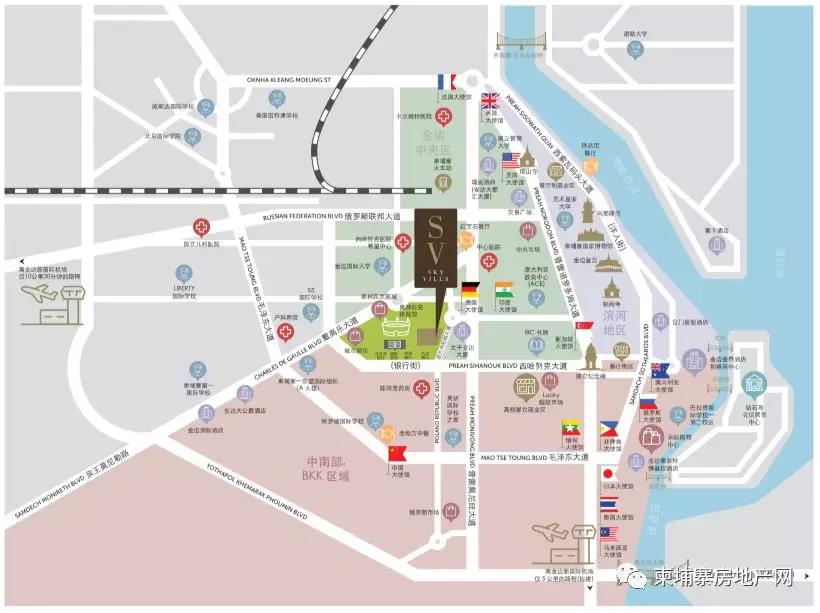 Sky Villa is located in a prime location in the core of Phnom Penh, south of the Olympic Stadium in Makara District, adjacent to Sihanoukville Avenue and Polish Republic Avenue. The surrounding area has a smooth transportation network and modern urban supporting facilities. It is only a few minutes away from the BKK consumer hot zone.
Government agencies, embassies of various countries, and international financial banks, and other first-class political and commercial facilities are near the end of the day. Within a 3KM radius, there are also Olympia shopping malls, AEON 1 shopping malls, the Russian market, and the famous central market.
Living in the city, in addition to the bustling shopping malls, sports centers, etc., there are many prestigious schools around Sky Villa, allowing parents to choose what is best for their child.
With its superior living experience and lifestyle, Sky Villa meets the high requirements of high-end people for living space. It allows the city's elite to live in a "villa", and it also symbolizes a new era of global luxury life.
Sky Villa has an out-of-print location, ultimate products, top-notch facilities, and exclusive services. It is unique in the capital, Phnom Penh, and is the best choice for urban elites to rent.
Want to enjoy the super large existing villa-level luxury apartment at the best price? Lead the high-end exquisite life, stay at Sky Villa now!
Source: https://www.realestate.com.kh/news/cambodia-skyvilla-sales/